---
Integrated Economic Area Development in East Indonesia
---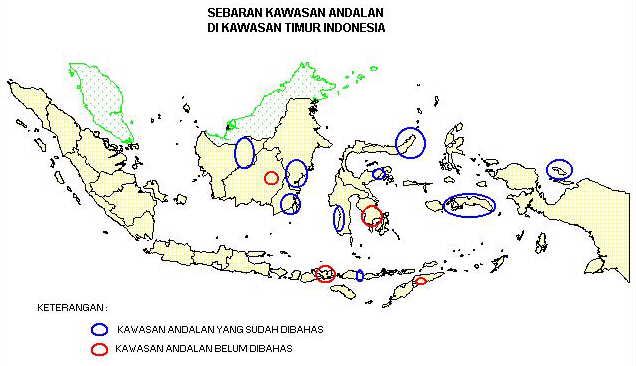 The Appointed Location of the Integrated Economic Area Development in East Indonesia
---
A Brief Explanation about KAPET:
In Repelita VI, the national strategy for spatial planning states the policy to set up priority areas which have strategic values in the national development. The development of those priority areas is implemented by inter-sectoral or regional approach, and focussing to attract more private investment in the areas and its surrounding regions.
In east Indonesia region, the national strategy for spatial planning has established 111 priority areas to be developed in PJP II, i.e., 55 areas located in east Indonesia region. For each priority area, it has been identified the strategic potential sectors can be developed optimally, which consists of eight strategic sectors as follows: estate crops, food crops, fisheries, livestock, forestry, industry, tourism, and mining.
Accompanying those priority areas and their identified strategic sectors, there were production regions in east Indonesia such as for food crops in South Sulawesi, North Sumbawa, Kendari, and Gorontalo; estate crops in Kalimantan, Sulawesi, Maluku, and Irian Jaya; forest-related products in Kalimantan, Sulawesi and Irian Jaya; fisheries in Maluku; and livestock in Nusatenggara and Irian Jaya.
In line with the development policy for the priority integrated economic development areas, there is a policy for the development of urbanized regions in east Indonesia which planned as the center for development for their surrounding areas, such as national development centers in Ujung Pandang, Manado, Pontianak, Banjarmasin, Kupang, and Jayapura; interregional development centers in Balikpapan, Samarinda, Palangkaraya, Mataram, Dili, Ambon, Merauke, Sorong, Palu, and Kendari.
---

Go to Main Menu